Møt Fred og Elisabeth fra New Zeeland som er på tur verden rundt med sin MB 220S fra 1957. De har allerede vært på tur i 2251 dager og så langt brukt 22.144 liter bensin. Stjernevognen har invitert de til Norsk Samferdselhistorisk Senter på Hønefoss Lørdag 06 August fra kl 10.30 - 14.00. Slik at vi alle kan se deres ekvipasje og ta del i deres erfaringer og fantastiske reise. Dette blir en opplevelse !
Her er kort om hva de forteller selv om turen :
AROUND THE WORLD IN A 1957 MERCEDES – BENZ
Imagine driving across five continents through unforgiving terrain in a 1957 Mercedes Benz. Early August 2014, after some three years of preparation, seasoned motoring pioneers Fred and Elisabeth embarked on a ground-breaking worldwide driving adventure. The intrepid couple left their beloved family to encounter breakdowns, corruption, and risking robbery and muggings as they travel unsupported in their, by now 65-year-old classic car "Abel". The team braves inclement weather and challenging driving conditions, planning to spend some ten years living in their specialised, light-weight tent-trailer "Zambezi", all in the name of adventure.

During their globetrotting adventure, Fred and Elisabeth pay homage to the historic success of 1950s Mercedes cars, particularly the Ponton series. The team visits important locations that celebrate the unequalled achievements of the Mercedes racing and rally cars of the era, including the 300SL, 300SLR and the iconic gull wing. They retrace the famous rally routes, including the Carrera Panamericana in Mexico, Nürburgring in Germany, Le Mans and Monte Carlo in France, and the Mille Miglia and Targa Florio in Italy.
Their Mercedes 220S was built on 8 August 1957 in Germany, imported in Invercargill, New Zealand and registered there on 8 November 1957. Fred and Elisabeth bought the car in 2003 and drove over 30,000 kilometres in New Zealand before they started the full-body off, complete restoration of the car which took 26 months to complete.
To date they have travelled over 220,000km through the USA, Canada, México, Belize, Guatemala, El Salvador, Cuba, Colombia, Ecuador, Antarctica, Perú, Chile, Argentina, Paraguay, Brazil, Uruguay, Bolivia, UK, the Netherlands, Belgium, France, Germany, Austria, and Italy.
In March 2020, Covid-19 forced the Smitses back home to New Zealand where they continued their travels camping and driving their 1929 Willys-Overland vintage car "Mrs Whippet" and 1989 Mitsubishi van "Banger". Late February 2022 they returned to the Netherlands to continue their travels through Europe, the Orient, North Africa, and then, by way of Central and South Africa, and Australia, to return home in 2025(?).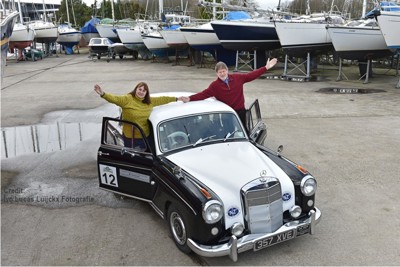 AROUND THE WORLD IN A 1957 MERCEDES – BENZ
Elisabeth and Fred love to share their travel experiences and excitements, their love for seeing this beautiful world and meeting the local people. Aided by short video clips and numerous pretty pictures they tell you how they encountered grizzly bears in Canada, crossed the 5,000m high mountain passes of the Andes and survived that night in the Brazilian Amazon surrounded by hungry jaguars, how red ants invaded their tent and car in Guatemala, about their money laundering in Chile, their visits to the Galapagos Islands and Antarctica, how they were arrested by a drug squad in Honduras, how they evaded Covid in New Zealand and their plans for the next few years.
The equipe has now completed 2,551 days (indeed 6 years, 11 months and 25 days) on the road, slept in 543 different places which included 161 camping grounds, and were exposed to temperatures between -12 to +46°C. The cars consumed 22,144 litres of petrol, 329 litres of engine oil and demolished 51 tyres!
Elisabeth and Fred gave 109 presentations about their tour to car and charity clubs, featured in 37 international magazines and 54 newspaper articles, gave 5 radio interviews, and appeared 16 times on television.
While killing one hedgehog, 7,226 red ants and 232,185 insects during their travels, Elisabeth and Fred did not have one single argument together!
Please follow them on www.Facebook.com/ClassicStrider.